The Perfect Paper Passwords plugin for WordPress gives you free multifactor authentication for your WordPress blog.
The multifactor authentication requirement can be enabled on a per user basis, You could enable it for your administrator account, but login as usual with less privileged accounts.
As part of the installation you create and print a series of Perfect Paper Password cards containing your one-time passwords. Every time you login to your WordPress blog, the login box will display the cardnumber and coordinates of the Perfect Paper Password you'll have enter in order to gain access.
If you are logging in with an account that doesn't have Perfect Paper Passwords authentication enabled, you simply ignore the additional password field.
---
Installation:
Download, install and activate the Perfect Paper Passwords plugin for WordPress.
Enter a secret word/sentence on the Users -> Profile and Personal options page, in the Perfect Paper Passwords section. Keep this word/sentence very secret.
After saving your changes, copy the "Sequence key" value and go to https://www.grc.com/ppp, here you paste your sequence key value into the first field, and perhaps type in a new passcard label and finally click the "Generate three passcards" button.
Store your sequence key in a secure but convenient place, you'll need it every time you have to create new passcards.
That's it, you're ready to login with Perfect Paper Passwords on your WordPress blog.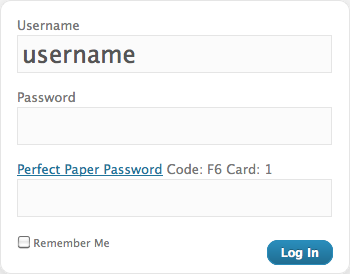 If you want to know more about Perfect Paper Passwords and how they work, you should go to Gibson Research Corporation and read on. Steve Gibson, the creator of Perfect Paper Passwords does a very good job at explaining how stuff works.